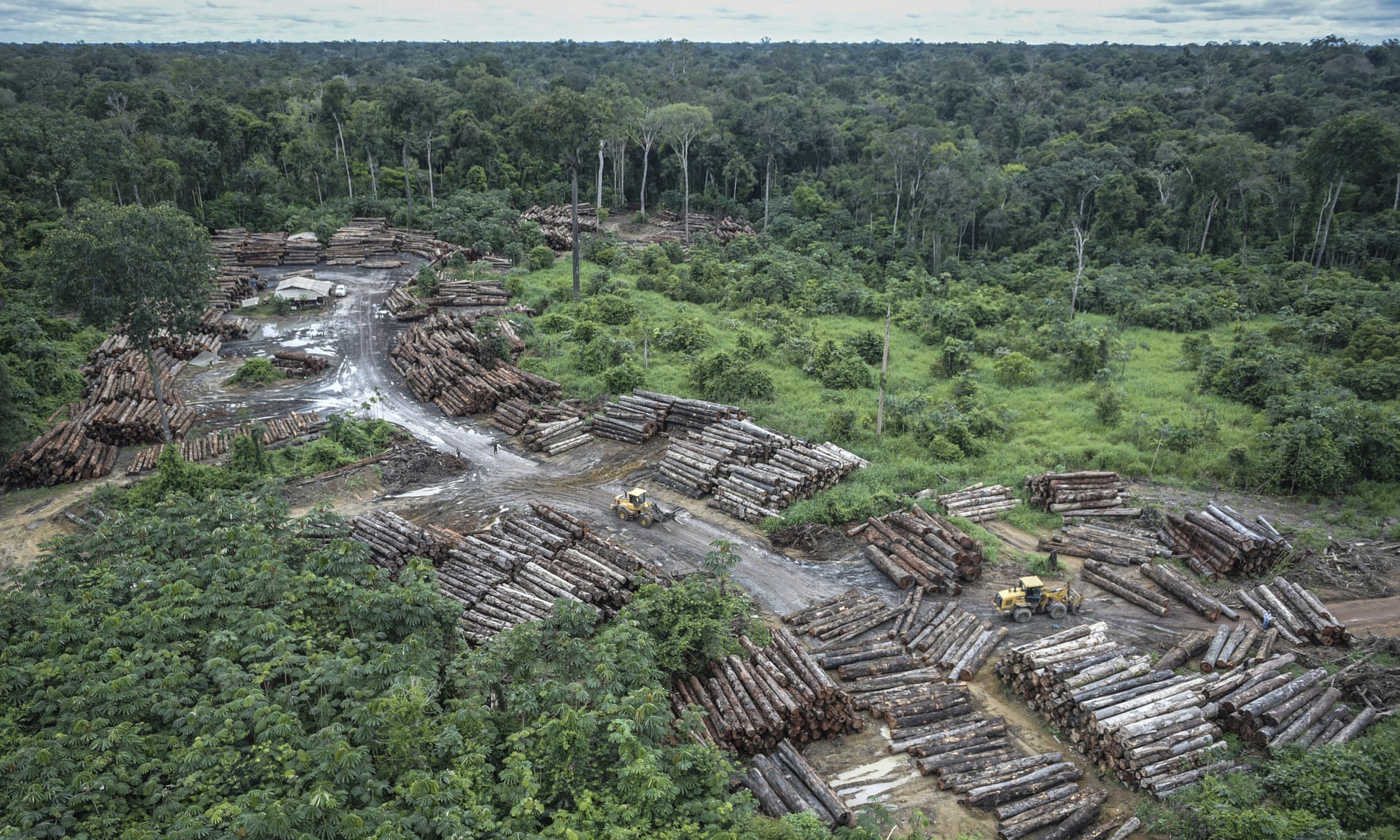 Deforestation in Brazil's portion of the Amazon rainforest rose more than 88% in June compared with the same month a year ago, the second consecutive month of rising forest destruction under the rightwing president Jair Bolsonaro.
According to data from Brazil's space agency, deforestation in the world's largest tropical rainforest totaled 920 sq km (355 sq miles).
The data showing the 88.4% deforestation increase is preliminary, but indicates the official annual figure, based on more detailed imaging and measured for the 12 months to the end of July, is well on track to surpass last year's figure.
In the first 11 months, deforestation has already reached 4,565 sq km (1,762 sq miles), a 15% increase over the same period in the previous year.
Environmentalists have warned that Bolsonaro's strong support fordevelopment in the Amazon and criticism of the country's environmental enforcement agency for handing out too many fines would embolden loggersand ranchers seeking to profit from deforestation.
"Bolsonaro has aggravated the situation," said Paulo Barreto, a researcher at Brazilian non-governmental organization Imazon.
The surge in deforestation comes as Brazil faces more pressure to protect its environment under the terms of the free trade deal between the European Union and South American bloc Mercosur agreed to last week.
The rainy season through April appeared to have held off a spike in deforestation that subsequently came with the dry season starting in May.
Deforestation rose 34% in May compared with the same month a year ago.
Bolsonaro's office declined to comment, saying questions would be addressed by the environment ministry. "We are adopting all measures to combat illegal deforestation," said the environment minister, Ricardo Salles.
Brazil is home to 60% of the Amazon, which is the world's largest tropical rainforest and is seen as vital to the global fight against climate change.
While the final text of the EU-Mercosur deal has not been released, an outline from the EU states the agreement includes a provision that the Paris agreement on climate change must be effectively implemented along with other commitments to fight deforestation.
The French president, Emmanuel Macron, had warned last week before agreement on the deal that he would not sign off on it if Brazil leaves the Paris accord.
Paulo Adario, a Greenpeace forest strategist, said "all indications" were that deforestation will worsen under Bolsonaro, but he hoped news of a large increase would put pressure on the government to take action.
"When they have the final numbers, if it is really a lot, this will be a nightmare for Bolsonaro," Adario said. "This is something that is really important from an international and Brazilian point of view because the Amazon is an icon."
As the crisis escalates…
… in our natural world, we refuse to turn away from the climate catastrophe and species extinction. For The Guardian, reporting on the environment is a priority. We give reporting on climate, nature and pollution the prominence it deserves, stories which often go unreported by others in the media. At this pivotal time for our species and our planet, we are determined to inform readers about threats, consequences and solutions based on scientific facts, not political prejudice or business interests.
More people are reading and supporting The Guardian's independent, investigative journalism than ever before. And unlike many news organisations, we have chosen an approach that allows us to keep our journalism accessible to all, regardless of where they live or what they can afford. But we need your ongoing support to keep working as we do.
The Guardian will engage with the most critical issues of our time – from the escalating climate catastrophe to widespread inequality to the influence of big tech on our lives. At a time when factual information is a necessity, we believe that each of us, around the world, deserves access to accurate reporting with integrity at its heart.
Our editorial independence means we set our own agenda and voice our own opinions. Guardian journalism is free from commercial and political bias and not influenced by billionaire owners or shareholders. This means we can give a voice to those less heard, explore where others turn away, and rigorously challenge those in power.